Frommers-
"With a tasteful modern decor and big windows for taking in the wave carved sandstone cliffs outside, Tidal Raves, located at the north end of Depoe Bay's strip of tourist shops,

is the most dramatically situated restaurant on the Oregon coast.

This place has had folks raving for years now, and on days when the surf is up, it's hard to take your eyes off the wave-pounded cliffs outside the window and concentrate on your food. The menu offers plenty of straightforward seafood (razor clams are a good bet), but it also includes some creative preparations such as green curry with seafood, seafood linguine with a choice of sauces, and Thai barbecued shrimp. For light eaters, entrees are available a la carte."
Tidal Raves was voted the Best Seafood Restaurant in Depoe Bay, Oregon by Urban Spoon Readers!
"Absolutely fabulous! Probably the best seafood dinner I've ever had."

"Smoked salmon chowder was great. Crab risotto was to die for!"
Yelp-
"Outstanding ocean views, great service."
Trip Advisor-
"I had dinner at this lovely restaurant overlooking the ocean. The food and atmosphere were lovely. Whales were seen frolicking in the background! The food was delicious and the service was the best I had on my trip to Oregon. 

You guys rock! I was treated so well, I felt like a queen!"

"The food was great and their specialty cocktails were superb. The fresh seafood was prepared well and the variety was nice. We will definitely go back!"

"It is hard to believe that any restaurant would have a better view of the Pacific Ocean then this one! The seafood was wonderful, they had a great selection and the prices were very reasonable. We would drive out of our way to go back to the "Tidal Raves" restaurant. The wait staff was very helpful in making recommendations from the varied menu and specials."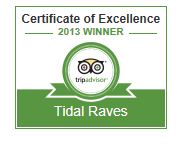 Contact Us
Open daily: 11:00 a.m. to close
Walk-ins always welcome. For reservations call:
Gift Certificates
Tidal Raves offers gift certificates. Call or visit us to purchase your one of a kind gift.
Visit Us
279 NW Hwy 101 Depoe Bay, OR
Phone: 541.765.2995
Hours
Open daily: 11:00am - close
Happy Hour from 2 p.m. to 5 p.m. daily in the bar